Queensland Quilters is hosting 2 workshops with Bryan Whitehead: 22-23 July,  and 24-25 July in Brisbane – Indigo,  stencils and rice paste.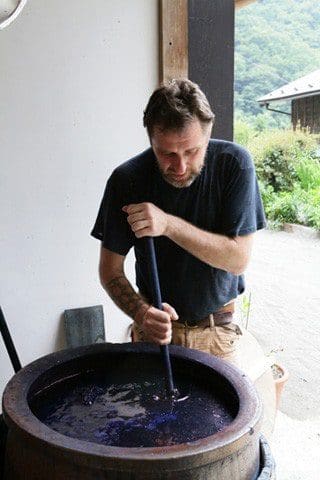 The workshops will be held at the Lavalla Centre, 58 Fernberg Rd, Paddington.
Workshop Description: "Indigo" with Bryan Whitehead
Size: fabric for a quilt approx. 210cm x 210cm (82″ x 82″) will be dyed.
This wonderful class will begin with an introduction to the stencil history of Japan, with many samples of old stencils and
antique indigo dyed pieces being shown and discussed. The process to cut masks in different shapes to make interesting blocks for quilts will be explained and then you will make masks and apply them to your fabric. Indigo vats will be set up during which Bryan will explain the background to making an indigo vat. Your pasted stencil cloth will be dyed and the patterns revealed when the paste is removed. You will also dye different shades of solid blue, to use in your quilt designs. Ideas of how to use your cloth designs in a quilt will be exchanged. This class is suitable for all skill levels.
The images below show Bryan making the paper for the stencils, cutting a stencil, drawing the rice paste through the stencil, so that the fabric is ready to dip in the indigo vat. The stencil paper, shibugami, is several sheets of handmade paper laminated together with persimmon juice.
[foogallery id="2509″]
Bryan has been growing his own indigo for many years. He processes the plant into fermented sukumo balls and then ferments the indigo in traditional Japanese ceramic indigo vats.  He has a huge collection of antique katagami stencils and is well versed in all aspects of stencil dyeing katazome. Brian will share his experience in  a trunk show of Japanese stencils and textiles.  Participants will have the opportunity to design, cut and use their own stencils.
From Bryan: a brief outline of the program I will be teaching in Adelaide and Brisbane:
I plan to bring a dozen or so antique 19th century Japanese katagami stencils with me. We will use these to dye cotton material in indigo to be used as quilting material. I will bring blank stencil paper for the participants to carve a mask shape to individualize the patterns. 
I will make three hydro sulphite indigo vats for the participants to use.
In the classroom I will need work tables for each participant to sit comfortably at. 
The workshops will start with an introduction to the stencil history in Japan with many samples of the old stencils as well as antique indigo dyed pieces.
This is a two hour talk/trunk show. If you have a projector that I can hook up to my iPad….we will definitely have a projector!

We will discuss how the resist paste is made, I will send the paste ahead in the post to make sure it will make it through customs. (It is rice based.) I will supply a recipe for students to make their own paste but we will not have time to make it ourselves.
I will explain the process we will go through to cut masks in different shapes to make interesting blocks for the quilts.
We will cut the masks and start pasting for several hours. We will need clothes lines inside or outside in the sun to hang the pasted material to dry.
A quilt needs some solid colours to use in the design. 
We all set up the indigo vats and I will give background on indigo vat making. 
Different shades of solid blues will  be dyed.
The pasted stencil dyed cloth will be dyed.
The paste will be removed and the patterns revealed. 
The class will be tidied up and the individual cloth designs examined by everyone and how to use them in a quilt ideas exchanged.
The project is to dye enough material to make a quilt (one-sided) one meter by one and a half meters.
The class will cover:
• What is indigo? Characteristics of Japanese indigo vs woad and SE Asian indigo.
• How indigo was used in Japan.
• Shibori, stripes, stencil dyeing with samples and about kimono.
• Old stencils.
• How they are cut/punched
• History of stencils in Ise.
• Look at some photos of a Japanese Living National Treasure stencil dyer's work.
Each participant will be stenciling and dyeing 2 metres of fabric for a quilt.
After discussion of how much stenciled fabric you want in your quilt and how much plain dyed fabric for borders; you will have two choices – either:
– 50% stencil patterns 50% solid. (Determine the depth of the blue and how many shades you want by themselves.) or
– 75% stencil 25% solid. (Determine the depth of the blue and how many shades you want by themselves.)
3 indigo vats will be made on the first day and the plain blue fabrics dyed on the first afternoon.
The remainder of the time will be spent designing and cutting stencils, stenciling with rice paste onto your fabric, dyeing the fabric, then removing the paste to reveal the patterns; discussion about your dyed pieces of cloth and suggestions of how to use them in a quilt.
Both Workshops are now full!