First Prize: "Campania"
Many thanks to the members of Queensland Quilters Applique Group, who made this beautiful appliqued quilt.
Superbly quilted by Cathy Schibrowski of Swandale Quilting Services.
The kit was donated by Deirdre Bond-Abel of Hat Creek Quilts. We are truly grateful for Deirdre's contribution to Qld Quilters. You can see more of her beautiful patterns at the Hat Creek Quilts website.
Value $
WINNER:  – Ticket#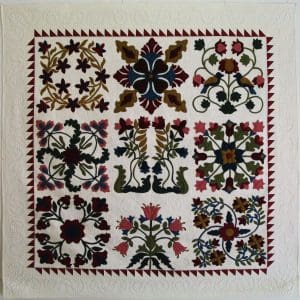 2nd Prize: "Circles"
Made from the stunning pattern "Lots of Dots" by Alexis Abegg.
Beautifully pieced by Susan Harris and superbly quilted by Award-Winning quilter Lyn Crump, of Busy Quilting.
Value $
WINNER:  – Ticket#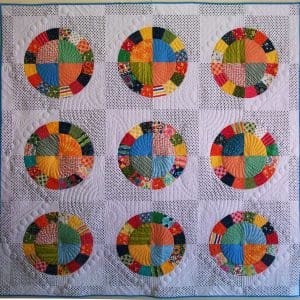 3rd Prize: BERNINA 215  Sewing Machine
Value $1,099
WINNER:  – Ticket#