STATE of the ART Quilt Exhibition – SOTA2020
   A juried and judged Art Quilt exhibition for members of Queensland Quilters Inc.
Exhibition Venues: Opening at AQC Melbourne, April 2020.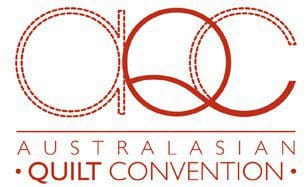 The exhibition will then travel with Expertise Events

to the national Craft and Quilt Fairs, ending in Brisbane in October 2020.
                       SOTA20 – Theme: "Queensland – Outback to Reef
                           Size: 60cm W x 120cm H  (To be hung vertically)
Curator: Fiona Jackson   [email protected]
Assistant curator: Julie Tasker    [email protected]
Juror: TBA
---
---
Due to COVID 19 and the cancellation of so many events this year, Bernina has withdrawn all sponsorship nationwide and so there is NO sewing machine offered for 1st prize.  Instead, Qld Quilters is generously sponsoring all prizes for SotA20 –
First Prize: $500 – Queensland Quilters Inc.

Second prize: $300 – Queensland Quilters Inc.
Third prize: $200 – Queensland Quilters Inc.
We hope things will return to normal for 2021 – we will keep you informed.
---

CONDITIONS of ENTRY
Queensland Quilters Inc. defines an art quilt as a fibre or mixed media piece of 2 layers or more held together in some way. The finished piece needs to be identifiable as a quilt.

Entry is open to all financial members of Queensland Quilters Inc. only
Quilts completed between January 2017 and January 2020 are eligible.
The theme for SOTA20 is Queensland – Outback to Reef. The size of the quilt is 60cm wide x 120cm long hung vertically.  Any technique.
Quilts must not have been exhibited previously in a Queensland Quilters Inc quilt show or Challenge.
Quilts must be the original design and sole work of the person whose name appears on the entry form and not a product of a workshop or other instructional setting in which other artists have provided guidance or assistance.
Cost of entry: $15 per quilt. Maximum 2 entries.
Online entries only https://www.qldquilters.com/              
Payments as per online entry conditions.
After the exhibition has been selected by the Juror, two Judges will award three prizes. 1st Bernina sewing machine (model TBA) 2nd $300 and 3rd $200. (Sponsored By Queensland Quilters Inc.)  Judges decisions are final and no correspondence will be entered into.
Delivery and return instructions to be advised.
Each piece must be sturdy enough to travel without special requirements. Pieces that have significant 3-dimensional features, embellishments that extend more than 2cm out of the face layer, require special hanging apparatus, are delicate or require special handling will not be selected. Please note that the quilts may be folded for transportation purposes.
Quilts must have a secure label attached with the title, maker's name, address and contact phone number.
SOTA20 quilts will need a Velcro hanging sleeve. Instructions to be advised on selection.
Queensland Quilters Inc. reserve the right to photograph and use images for purposes as it sees fit.
For promotion, advertising, exhibition catalogue and/or multimedia productions for or about the exhibition Queensland Quilters Inc. may use full or detailed images and all or part of artist statement supplied.
Queensland Quilters Inc is not liable for any damage or loss of exhibition items however such loss or damage is caused, including any negligent act, omission, fault or cause.
Insurance, if desired, is the responsibility of the entrant.
The work must be available for all exhibitions and will not be released during this period.
The artist is responsible for the cost of postage to Queensland Quilters Inc. Quilts will be returned by Queensland Quilters Inc. using regular post.
If a quilt is not selected for this exhibition, the original cannot be entered into any future SOTA exhibitions.
No photographs of selected entries are to be shown on social media sites before judging has taken place.
---
GUIDELINES FOR SUBMISSION OF JPEG IMAGES



Supply of digital images is required; 1 full view showing all edges and 1 detail to be supplied for each quilt. https://www.qldquilters.com
Do not send actual artwork at this time.
NO IMAGE TO BE LARGER THAN 4MB CAPACITY.
Jury selection is made from the images supplied by the artist.
Professional level photography is essential for inclusion in any publicity. Please acknowledge the photographer.
Title each digital image with your last name, the first 2 words of quilt title and whether it is full or detail eg SmithYellowFlowerFull and SmithYellowFlowerdetail. The full image must show all the edges of the finished work.
Calendar: Saturday February 29th 2020. "Receive by" date for submission of online entries
Saturday March 28th 2020. Delivery deadline for selected quilts (2QAQ meeting day)
---
CALENDAR
Calendar: Saturday February 29th 2020. "Receive by" date for submission of online entries
Saturday March 28th 2020. Delivery deadline for selected quilts (2QAQ meeting day)
---
ARTIST CHECKLIST
2 digital images(full and detail views) and payment for each quilt submitted as required on the online entry form.
---
ONLINE ENTRY FORM