Like many art quilters, Rebecca comes from a very creative background. Her grandmothers were both textile people – a milliner and a tailoress who also made show winning dolls and doll clothes. Her mother was an oil painter who sewed the childrens' clothes and later, discovered quilting particularly Hawaiian quilting. One of Rebecca's early memories is her love of Cowboys and Indians particularly native American Indians and her mother made her an Indian suit out of calico way back in 1960, which she dyed with strong coffee.
Rebecca became interested in creative embroidery when she moved to Armidale in NSW and did a summer school at the UNE in 1979. She was later invited to join a quilt group by the late Barbara Meredith and made cot quilts for her children and friends.
She returned to full time work in 1986 and had a corporate career for the next 20 plus years. He husband was appointed to a senior position in Wellington NZ in 2006 and she went over to live there not knowing a soul.
Her Journey
Rebecca joined Pinestream Quilters in Upper Hutt and became a Committee Member for several years. She also completed her City and Guilds in Patchwork and Quilting online from England with Laura and Linda Kemshall. It was an 2 year online course, teaching design elements, basic dyeing, paint sticks, quilting, patchwork, foiling etc
In 2007, she attended a masterclass with Joan Schulz and the work from the class in NZ and the Australian one Joan ran were exhibited at the TAFTA Gallery in the Gap. The theme was Fans. Joan taught how to use fabrics other than cotton and image transferring onto cloth.
She also did a five day course with Heide Stolle Weber from Germany on Procion fabric dyeing, which provided her with a massive dye sample book to refer to.
Rebecca also studied mixed media at night at NZ's Community College, which resulted in her being asked to join two art quilting groups – Cre8 and 8 by 8(3 Squared).
She had the wonderful opportunity to attend workshops, twice, with NANCY CROW from USA. Nancy is a legend – she is now 72 but has an amazing energy and a very critical eye.
Nancy began doing her free type patchwork in the 1980s and 1990s and has held many exhibitions at Art Galleries in the USA and beyond. She founded Quilt National USA in 1979 , which continues as one of the supreme biannual Quilt Exhibitions. She taught many of the modern day quilt movement quilters like Denise Smythe, Jean Wells and Lisa Call.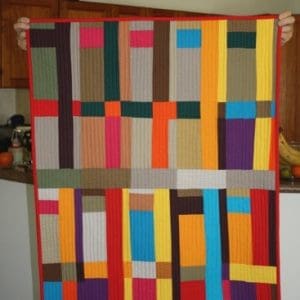 In total, Rebecca spent 5 weeks with Nancy Crow in 2011 and 2013. Nancy's method of teaching is to get you to hand write the notes of the day which contain a series of Design Exercises with dimensions (e.g. 60in by 40in) and colour rules. Nancy wont let you use a ruler – her workshops are about design. Nancy teaches design, design, design, the wonders of colour relationships, using solids, free cutting and rules to create a piece e.g use three greys, three tans and two colours. Nancy sees art as a process of discovery and not knowing ahead of time exactly what you are making. She emphasises composition and proportions. Nancy's courses are exciting and a real stretch.
Rebecca returned to Australia in 2013. She attended the Quilt Symposium 2013 in Lake Taupo and took a class with Gwen Marston from USA, once again required to piece without a ruler! She continues as a member of her New Zealand art quilt groups.
8 BY 8 ART QUILT GROUP – NZ
The 8 by 8 group have set themselves various challenges beginning with two journal quilt series. These quilts have been exhibited in the New Zealand Parliamentary Gallery and EXPRESSIONS Gallery Upper Hutt.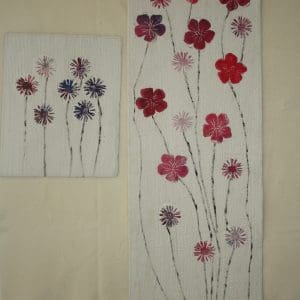 These quilts are 12 by 15 inches and they made one every two months and everyone's was different. Rebecca posted hers to New Zealand for the Reveals. Topics included sea, churches, bridges, and 8 based on colours – 16 quilts in all.
Last year the quilts were inspired by a poem by the Poet Lauriate of Wisconsin. Her poem included references to nature so Rebecca's work centred around flowers. These will be exhibited at EXPRESSIONS Gallery in June/July this year.
CRE8
Cre8 had a very successful exhibition at the HUTT ART CENTRE at Lower Hutt Wellington in June/July last year, with another Exhibition booked for next year.
BRISBANE 2013 – NOW
On returning to Brisbane in 2013 Rebecca met up again with Chris Harvey and Jen Young who encouraged her to join Queensland Quilters. She also met Ali George, who encouraged her in her art quilting, fabric dyeing and print making. With Ali, she has run some workshops at Craft Shows in Sydney, Perth and Brisbane.
In 2015 she was asked to join Broadstrokes Art Group. The expanded membership now includes Sue Dennis, Chris Jones, Jane Rundle, Ali, Merody, Kathryn, Mel, Suzanne and Rebecca. Broadstrokes successfully presented a group exhibition in Taiwan last year with some other Art Quilters and details and photographs of the quilts was included in the Qld Quilters magazine last year. Since Taiwan this exhibition has been traveling and has been exhibited at Brisbane Craft and Quilt Show, Wellington NZ, Adelaide and soon in Hobart.

TEXTILE DEGREE AND 2017 CHALLENGE PROJECTS
Rebecca's current challenge is to complete a Textile Degree accredited by the University of the Creative Arts in the United Kingdom – a distance course that requires her to send work to the UK for assessment. She is learning to be more adventurous and to extend her textile practice. At the moment she is making experimental yarns using string, thread, seaglass, wire, feathers etc. She then has to incorporate these into a simple textile piece.
She has also entered Brenda Gael Smith's Weekly Art Project for 2017 and Year of Stitches 2017 and finds that the weekly challenge is great for overcoming procrastination!
It was wonderful to hear Rebecca's journey and to see her inspiring quilts. You can follow Rebecca's blog to see more of her art pieces.