Sue Dennis invited to exhibit in Shenzhen, China 2019
Congratulations to Sue Dennis, who has been invited to exhibit in Shenzhen, China.
The Third Shenzhen International Patchwork Show has invited 5 international artists to exhibit their quilt creations at the Shangwei Museum of Contemporary Art from May 10-13 2019 in Shenzhen, China.
Australians Sue Dennis and Brenda Gael Smith will have 10 quilts each featured in the exhibition. Other artists included are Europeans Gabi Fischer, Barbara Lange and Gul Laporte.
This is the third time Sue will be exhibiting in China, having previously shown work in Beijing in 2015, 2018 and Shenzhen in 2018.
"The quilts I'm taking to China haven't been exhibited there before and are a departure from my previously exhibited plant foliage, printed work," said Sue. "It's an exciting opportunity to share our work with another audience."
Sue Dennis ©2019
Sun Dance
© 2018
70cm W x 120cm L
Each day we all dance a merry jig around the sun which sustains our planet and lives.
Materials:  Batting, cotton fabric, synthetic fabrics, paint, thread, fusible
Techniques: Hand painted, machine quilted, machine appliqued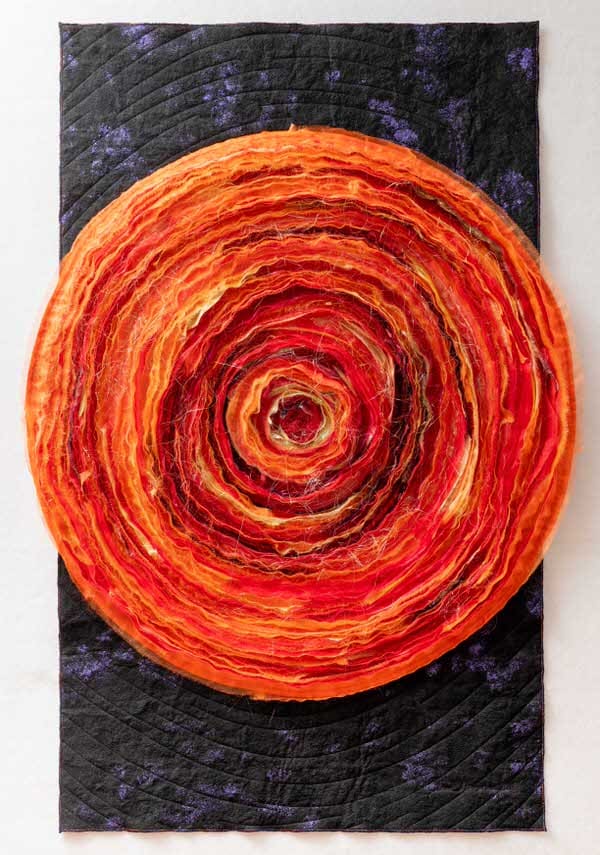 Flow
©2019
60cm W x 91.5cm L
The march of time is like the flow of a river. Our lives also flow and we gather family, friends, experiences and wisdom on the way.
Materials- cotton, wadding, silk, synthetics, thread, paint, fusible web
Techniques- hand painted, machine appliqued, machine quilted